Since I have been away from home on the weekends these past few months, I have needed to find little bite sized projects that could be completed in an evening or two, and decided to give a much needed overhaul to my retro gaming setup.
With NES, SNES, N64, GameCube, and PS2, most of the output was via smeary composite video or RF output into a modern HDTV, yielding truly awful video quality with lots of artifacts ("jailbars" / interference bands and worse), and bad lag. Adding a Genesis and Neo Geo AES just made a worse mess.
Overview
The end goal is to have nice "emulator quality" video out to a modern HDTV. Looking around at what was available, this is what settled out: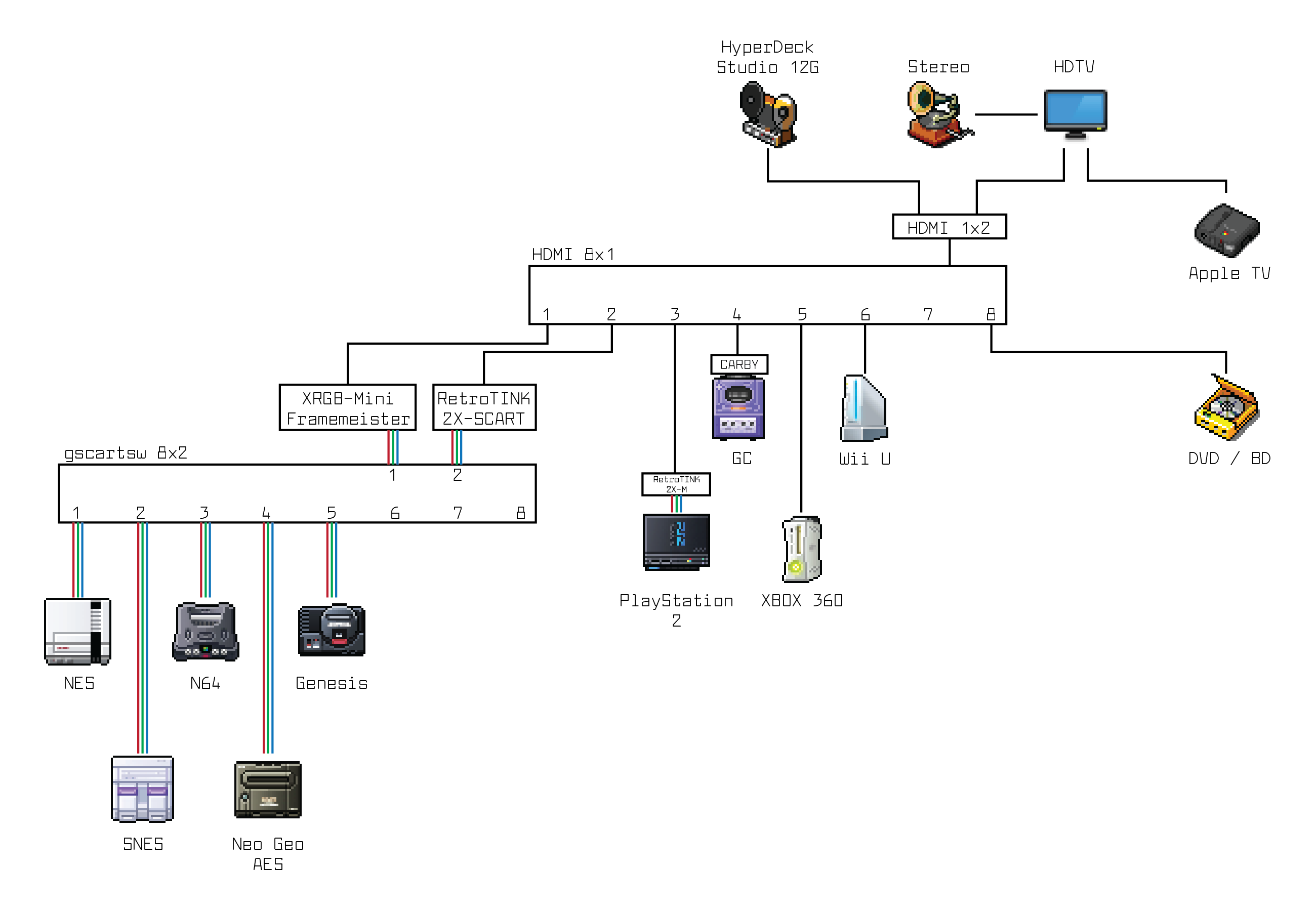 This involves conversion of the NES, SNES, N64, Neo Geo AES, and Genesis to their cleanest state of
RGB output
via various modifications and cables, which would then be fed into an automatic
8x2 SCART switch
(gscartsw by superg). Also included was full recaps of all electrolytic capacitors, and conversion to modern power supplies.
The two analog RGB outputs of the SCART switch are either line doubled (
RetroTINK 2X-SCART
) or scaled (
Framemeister
) and converted to HDMI.
The PlayStation 2 gets its own component to HDMI via the
RetroTINK 2X-Multiformat
, so as to properly handle occasional 480p output. Likewise the GameCube gets a
CARBY
which cleanly converts its digital framebuffer output to HDMI, bypassing any analog D/A, A/D steps.
All HDMI sources then enter an automatic
8x1 HDMI switch
, which is then fed to a
1x2 HDMI splitter
. One HDMI output feeds the Sony HDTV, while the other occasionally goes to a
Blackmagic HyperDeck Studio 12G for recording
.
The HDMI signal path is lag tested (for fun) with a
Time Sleuth Display Lag Tester
, with the TV being ~3ms lag on any resolution (480p through 1080p), and the Framemeister introducing about a frame of lag if in the path. All other components are lagless as expected.
All these mini-projects are almost complete, so I will continue with other posts showing the modifications and eventually output results
Last edited: