Hello all,
I figured it would be fun to share what I've been working on lately. As many of you know, I am quite fond of old gaming consoles. When shopping I noticed that here where I live the new Nintendo Game & Watch Super Mario Bros was on sale, so I bought a few units to play with to learn more about embedded software development. So far I have modded 3 of my units with a bigger external flash memory. These come with 1 MB from the factory, but that is upgradeable. In my case, I used a 16 MB ISSI NOR FLASH SOP-8 chip that happened to be available locally. The particular chip is not compatible with the original firmware of these devices, but I do not care as I've bought these for homebrew purposes. These use a fairly powerful STM32H7 MCU as the heart. Back when I used to work as a contract hardware designer, I almost solely used STM32 chips, so the STM world is quite familiar to me. However, I never did any firmware design for STM32 so this is very interesting way to learn about that topic.
Currently I am working on the retro-go G&W port. What I am doing is implementing RTC support that has been missing so far using the RTC functionality found in the STM32 hardware. Last night I managed to get it work with the external crystal (LSE). It seems that there was a bug in STM32cubeMX that forced the RTC to use LSI clock all the time and also without selecting CBS Sync LSE option any LSE drive options were unavailable. I set the drive to 'high' to make sure that it works. Current usage is negligible compared to low drive.
Here is a screenshot of a menu I created to control the RTC. Now it shows only the time, but I am working on developing controls to set the time. The menu is triggered by pressing the 'TIME' button.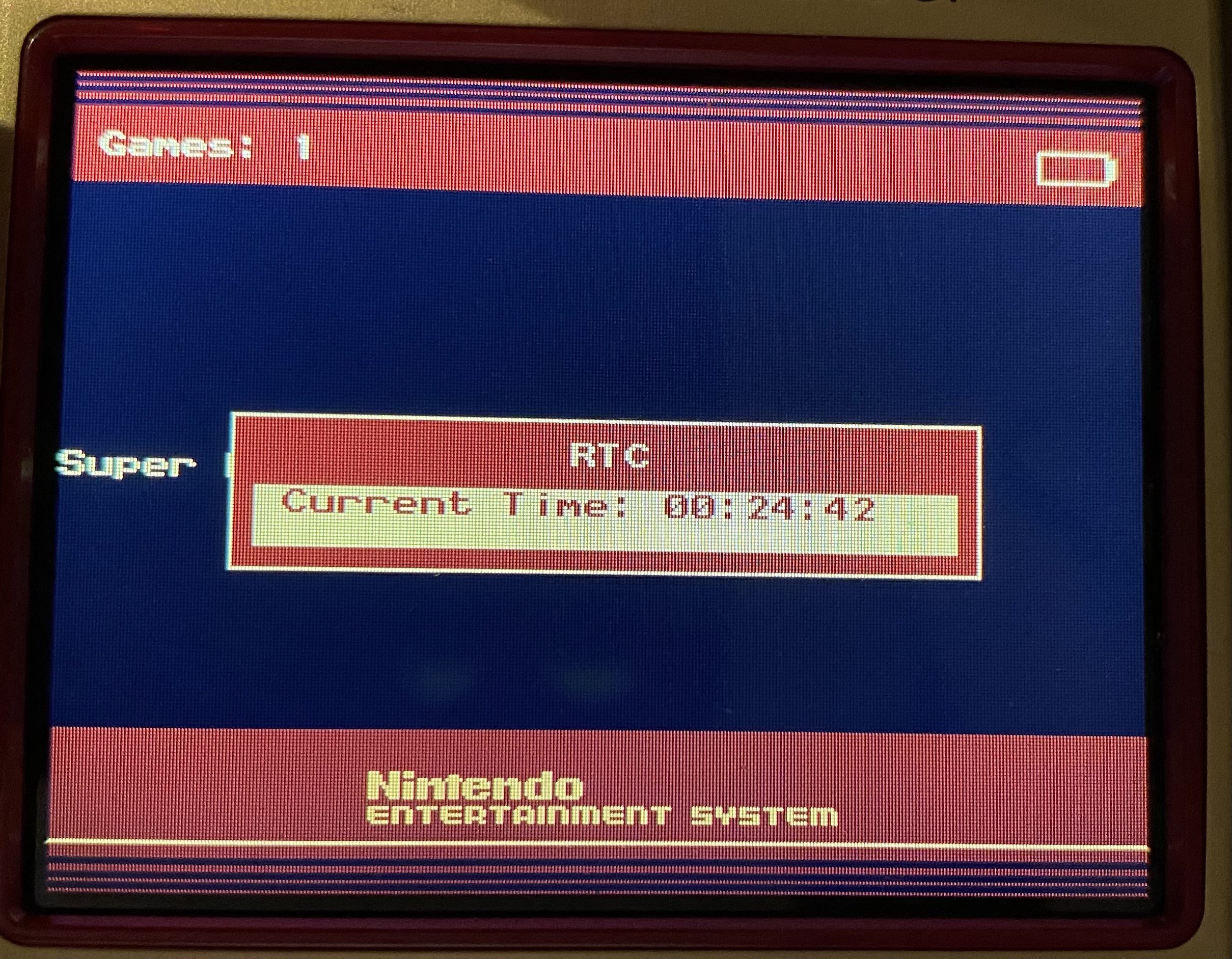 My ultimate goal with the RTC is to introduce it to the Game Boy emulator so that time passes when you are not playing. At the moment the Game Boy emulator only uses software RTC that only passes time when you are playing a game.
For more information about G&W homebrew, I suggest checking out Stacksmashing's youtube channel!
USB data pins are not connected so for homebrew one needs to use debug pins on the motherboard. I've used stlink v2 (mini) to program my units but I've heard it is also possible to use a raspberry pi to achieve the same, but with slower speed. Also, the stock flash chip is a bit limiting. The homebrew firmware that I am participating in the development of does use a compression mechanism (lz4).
Disclaimer: This post is my own, and not endorsed by Nintendo.