Hi all,
I've recently acquired 2 Presenter 1280 displays, along with the Corona presenter board for the Indy. However, I am missing the cable.
Rather than try to find someone who has a spare I figure I may be able to fabricate my own, but I need some more information from one of you first.
My Presenter 1280 uses a 68 pin VHDCI connector, identical to what you would see on a 68 pin SCSI cable. But my board in the Indy has a 68 pin HPCN connector. I was able to find
this
document that implies the connector pinout for the 1280. I would assume that the original cable for the presenter was straight through (pin 1 on the VHDCI side goes to pin 1 on the HPCN side, etc) but I want to be totally confident before I try to make one on my own and let all the smoke out.
Can any presenter owners confirm my assumption please?
Thanks!
-Jack
68 pin HPCN: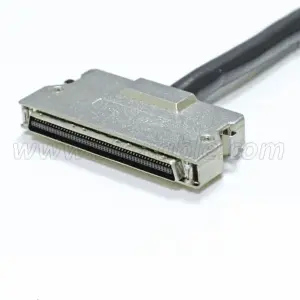 68 pin VHDCI: