Hi people,
I'm attempting to diagnose a Zytec 22943507 Rev C for Impact Indigo 2 systems.
PSU details:
Description of fault:
Absolutely no output when power applied. Connecting 'run' pin 11 to 'standby 5v' pin 5 does not start the PSU. No output on pin 5 'standby 5v' at all.
Some things already done: Replaced most of the capacitors on both HV and LV sides, as suggested on Ian Maplesons guide. The only caps not replaced yet are the super-large two on the HV side and the 6800uf caps. I have also re-soldered most points on the boards that get hot, to make sure the solder is good. None of this helped.
In-depth testing:
I do not have an impact graphics terminator, it wasn't attached to my PSU like others, so I had to make one from scratch:
I measured which side was GND and plugged the sense cable in for black to GND yellow to 3.5v.
Another thing I was interested in was the initial AC filter. I tested the continuity and it all seemed fine. I opened it up and took a picture just for the record: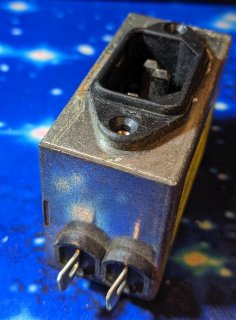 Last edited: