Hey guys,
(CAUTION: After re-assembling the cube and testing some games I started to see graphical artifacts consistent with overheating graphics RAM. I opened the system back up and turned the fans to maximum and this solved the problem. I might try and get a much larger ram heatsink for it)
(UPDATE: I re-flashed the card with the 300mhz ROM file which is down-clocked for the Cube. I also replaced the adjustable potentiometer with 82Ohm resistors for each fan, this gave the perfect amount of airflow vs noise)
you might know that I've been working on a G4 Cube lately and I have finally finished the project! Here are some photos and the final specs:
| | |
| --- | --- |
| CPU | G4 Sonnet 1.2Ghz 2MB L3 Cache |
| RAM | 1.5 GB of CAS2 SDRAM |
| Internal Storage | 2x 120GB SSD's on the IDE bus, 1x 32gb USB on internal router |
| Removable Media | 1x Fire-wire 400 CF card reader, in replacement of the CD-ROM |
| Graphics | XFX NVIDIA 6200 w/ 256mb RAM, core image and quartz extreme supported |
| Sound | External USB DAC with analogue & spdif output |
| VRM | High power G4 Cube VRM from Stratos technologies |
| Wifi | Internal AC750 travel router wired to Ethernet w/ hardware kill-switch |
| Cooling | Internal CPU fan and GPU fan connected to potentiometer for control |
| OS | Tiger on one SSD, Leopard on the other |
Firewire CF card reader installed in the CD-ROM bay, the CD-ROM was removed because it didn't eject anymore and also optical media is kind of obsolete these days. The FW CF drive is super fast (can easily max out the fastest available CF card) and is fully bootable. This makes it extremely easy to quickly write installation media and even having a spare CF with a bootable OS on for system recoveries if something goes wrong.



........................................................

The XFX NVIDIA 'WANG' AGP graphics card. The fastest card available for the G4 Cube and conveniently one of the smallest. Core image and Quartz extreme fully supported. It is a PC card that needs to be flashed with a modified Mac bios, I personally chose the 'TOME' rom with temp sensor disabled to allow Leopard booting. All information about flashing this card can be found on the Mac Elite site below:




real world speed test results for performance minded Macintosh users


The cooling heatsink is either:
Titan TTC-CUV3 (USA) or

Evercool VC-RF (EU)

Stratos Technologies high power G4 Cube VRM, highly recommended as using a stock VRM and upgrades can cause complete system failure. I firstly modified my stock VRM with extra MOSFETS and fitted heatsinks - but I still ended up getting the Stratos one as I'm a little paranoid about these kinds of things.
Stratos link below:

(PS I e-mailed the guy asking for a discount and he kindly gave me free postage from Japan, he told me he'll do it for anyone who asks and I can tell people about it)
Installed an internal potentiometer to control the GPU and CPU fans. The CPU fan was already installed due to the 1.2ghz CPU upgrade. The Stratos VRM actually has a heat sensor to adjust the voltage output for the fan, but it only supports one fan at a time so I decided to just use my own method. I also like to set the fan speeds exactly. You can see the potentiometer in the photo on the bottom right hand side, inside the pocket of space. I thought about poking it out so I could adjust from outside the case, but decided that I'd rather not just in case I touch it by accident when plugging cables in, plus it is super easy to open it up for adjustments if necessary.
Here you can see the internal SSDs mounted just below and above the CD-ROM area at two separate right angles. Removing the CD-ROM freed up one extra IDE port so I could run two drives. Since the SSD's are so small and use low power, they're actually much better for the Cube than old spinning disks.
I installed a TP-Link TL-WR902AC in the CD-ROM bay area, wired up it's micro usb power into the Molex 5v of the SSD and routed the cable internally and out through a hole created by removing the old 56k modem. The Wifi router also has a USB port so I installed a 32GB usb drive to be a local network share between the Tiger and Leopard OS's. Handy for Cube specific files and system tools, OS X images etc.
Here is a side shot of how it all fits together, the FW CF reader at the top, then the wifi router and SSD's. The white cable is router much neater after I took this photo.
Hardware kill switch for the internal wifi router. As there are times I might prefer to connect directly to a local ethernet, it is nice to be able to turn the little router off to save power and reduce heat.
(the cool light effects weren't planned, they just happened due to the mods I installed, I don't mind them!)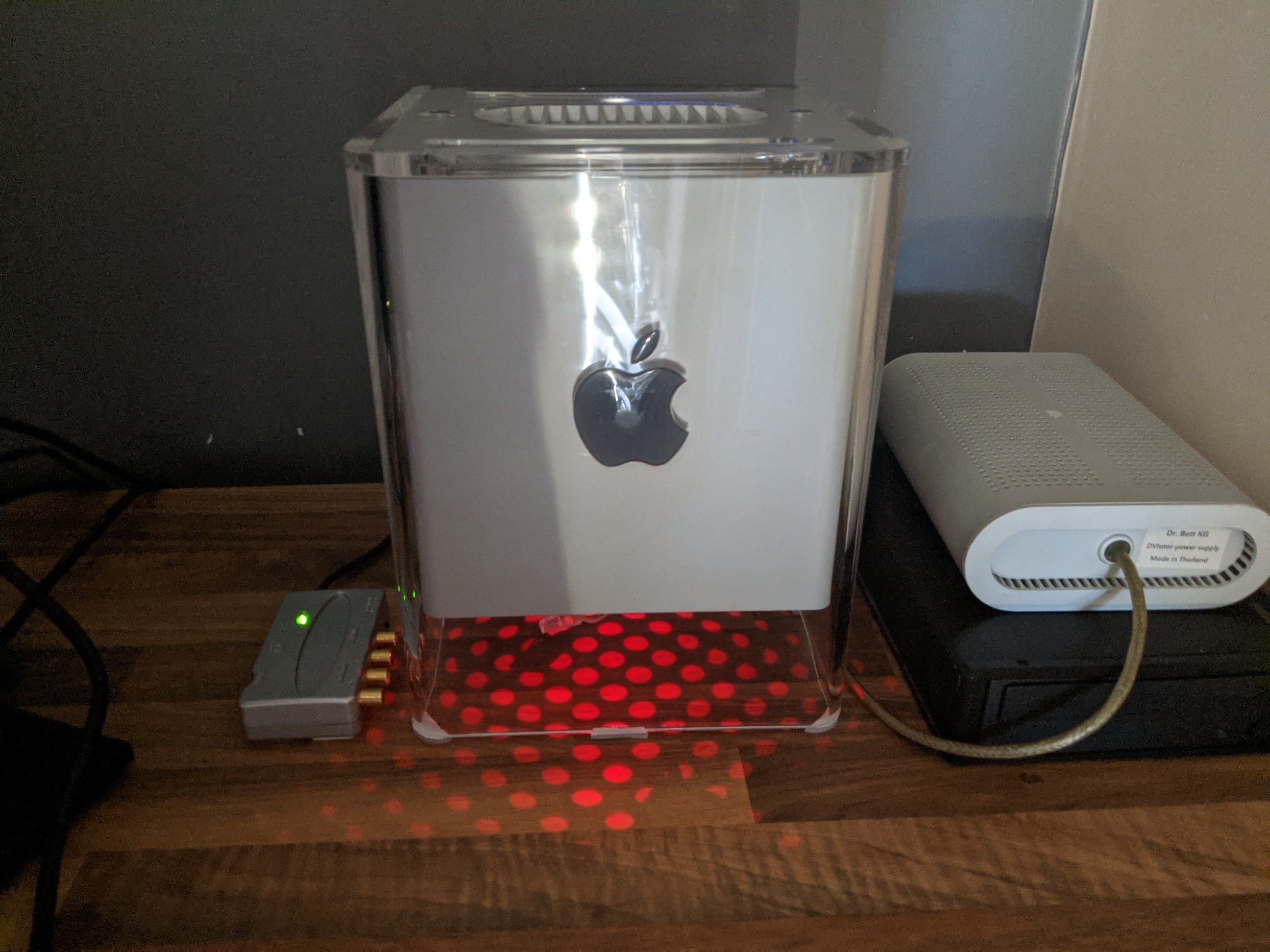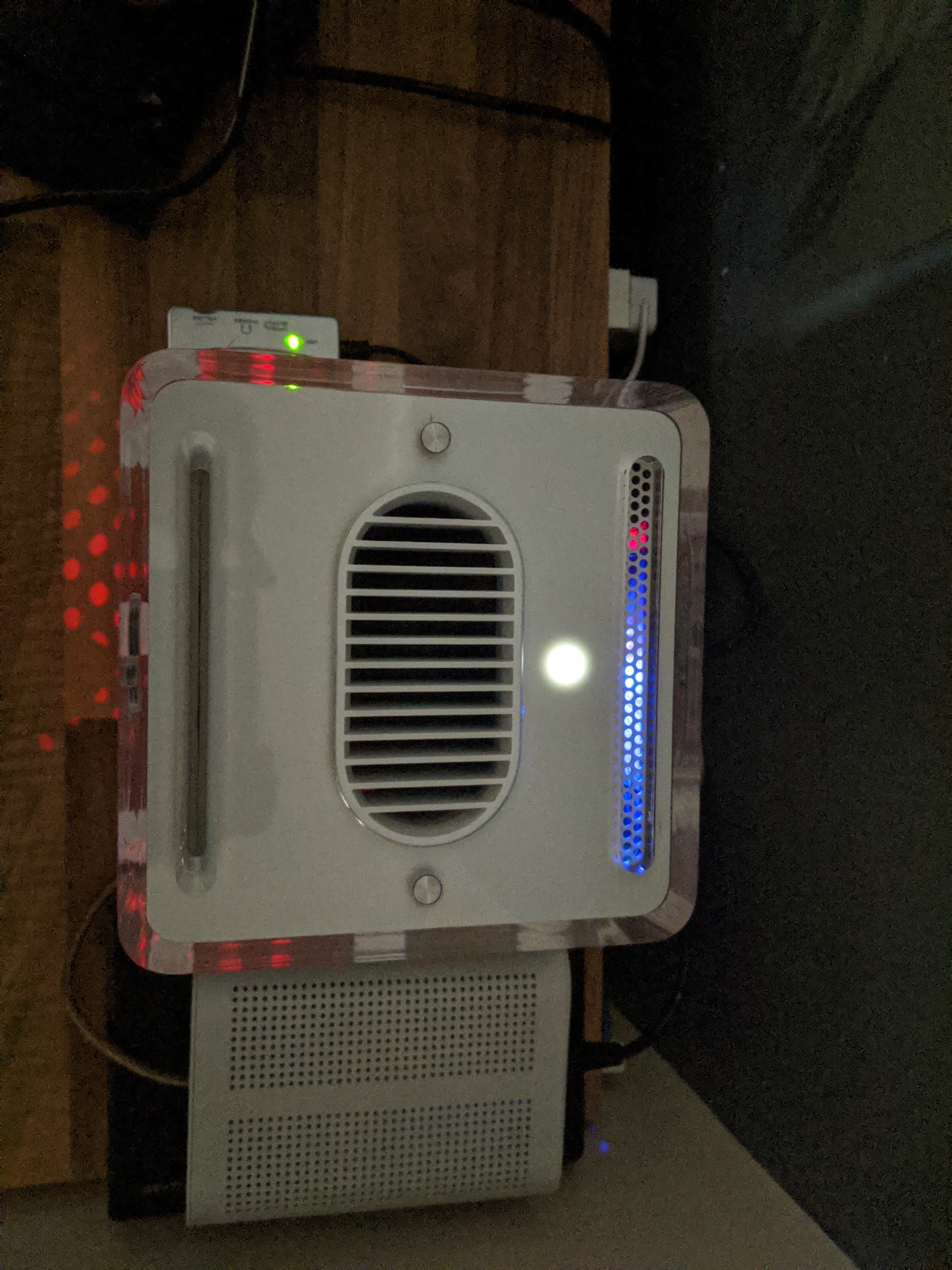 Thanks for reading!
Last edited: